Abruzzo welcomes you to southern Italy. Located fifty miles east of Rome, on the coast of Adriatic Sea, this region serves as a dividing line between Italy's North and South. Abruzzo is composed of four main provinces: L'Aquila, Chieti, Teramo, and Pescara.
If you are looking for lots to do without a mass of other tourists trying to do it with you, there's a pleasant surprise waiting for you in Abruzzo.
Abruzzo is famous for its medieval hill towns.
Explore the mystery and lore of an old castle, walk down the quiet, cobblestone streets and enjoy a taste of a life that moves at a much slower pace.
To experience the legendary pre-Renaissance Italy, plan to spend a day and a night in Fontecchio, a favorite of the central hill towns. Fontecchio is still largely undiscovered by the tourist brigade, so explore it and enjoy it, but keep it under your hat!
Take a romantic stroll through the town and observe the ancient architecture. If you're lucky you'll catch an accordion concert or a local festival-the region is famous for these. Don't miss the 14th century 14-faced fountain in the Piazza Popoli. Have dinner in a monastery and sample some of the best of the Abruzzo gastronomy.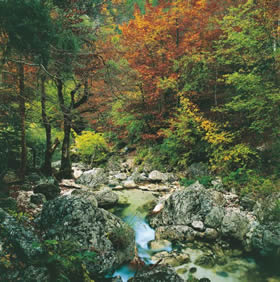 While most regions of Italy host their own palios (horse races), Abruzzo's L'Aquila province is known for another kind of event: the donkey race.
On the third Sunday of August, the medieval town of Navelli holds its infamous Palio degli Asni.
The Palio is the main event following the town's Sagre, or agricultural festival, in which they celebrate the yearly chickpea harvest. Every region's palio is unique and wild in its own way, but Navelli's event is a unique twist and not to be missed.
Another attraction that has helped put Abruzzo on the map in recent years is its thriving agrotourism industry. Travelers welcome the opportunity to lodge on a farm and experience Italy in natural form-away from the touristy city centers and mediocre hotels. With the farm owners as your guides, you learn the cuisine of Italy firsthand. In some arrangements you are even able to participate in the workings of the farm.
Learn how a cheese farm operates or experience a vineyard behind the scenes. As a traveler, there is no better way to achieve the real flavor of Italy than at an agriturismo.
And if outdoor adventures and excursions are part of your perfect vacation, you'll love the variety of Abruzzo's chain of national parks and nature reserves. Abruzzo National Park, Gran Sasso e Monti della Laga National Park, Maiella National Park, Sirente Velino Regional Park, and the Lago di Barrea Wetlands provide a full schedule of hiking, trekking, mountain climbing, and skiing.
And if outdoor exertion isn't your idea of vacation, spend a day sunbathing on the Adriatic coast.
Known for exceptional cleanliness of water and some of the finest sand in Italy, an afternoon of swimming and sunbathing should make it onto your Abruzzo itinerary.
After you've worked up an appetite with all of your outdoor activity, it is time to refuel on Abruzzo's most delicious regional plates. As mentioned, this region is known for its miniature chickpeas (ceci), and saffron is the beloved regional herb. This rare and sough-after spice comprises a major element in Abruzzo's agricultural life and you'll see that reflected in the cuisine as well. Brodetto, a pepper soup, is a perfect way to start your meal. Being situated on the coast, Abruzzo makes good use of the fruits of the sea, so indulge in a seafood pasta or risotto. Lamb and kid are also the base of popular dishes. Finish your meal with a small glass of centerbe, a digestive made of regional herbs.
With its mysterious medieval lore, unending natural recreations, and funky festivals, Abruzzo is the Italian 'road less traveled.'
To get there, fly into the Abruzzo International Airport or take a regional train. However, within Abruzzo, the train system is less than reliable. To travel between towns, use the regional bus system or rent a car and enjoy the endless string of pleasant towns and hamlets that dot the region.