0 Calabria Diaspora around the world
Our in-person family gatherings
Ireland's President Higgins family message
Our TEDx talk about family gatherings
Focus: Scilla, Gerace, Pollino National Park
Jacki Christopher for Italy101.com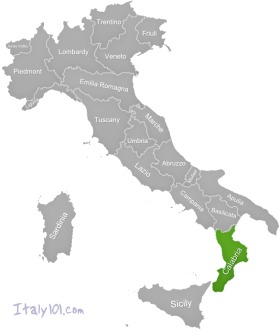 The 'toe of the boot', Calabria, is the Italian peninsula's southwestern-most region with Sicily just a 3km hop across the Strait of Messina. Surrounded by the Tyrrhenian and Ionian Seas, Calabria is primarily mountainous, with lakes and lush forests throughout. But perhaps the most alluring trait of Calabria is its unending stretch of coastline. Dotted with fishing villages, travelers find the coasts of Calabria are the places to focus your time.
The tourism industry is relatively underdeveloped in this Italian coastal haven. And if you've had a little too much time in Rome or Florence, this isn't a bad thing. Calabria is the place for travelers who seek outdoor adventure, endless miles of beach, and the opportunity to explore at their own pace. When you come to Calabria, you are on your own. Relax, hike, wander a fishing village or hit the beach—there is no travel itinerary or landmarks to check off your list.
That's all part of the Calabrian charm.
But that doesn't mean there's nothing to do or see here! Pollino National Park, which spans the borders of both Calabria and Basilicata, is a paradise for mountain climbers and hikers and adventure seekers of all types. To get the most out of a day in the park, consider hiring a guide. Ask your hotel for recommendations.
As this area was once a part of Magna Graeca, or greater Greece, there is no shortage of ancient history to observe and enjoy. As Calabria is former Greek territory, you'll notice the ancient Greek (and later Byzantine) influences in the ruins and architecture. Classics enthusiasts will love the opportunity to get a feel for the ancient Greek culture without the crowds and touristy feel of larger ancient cities.
When traveling Calabria, feel free to skip the major cities and towns in favor of the smaller villages—this is where the real appeal and character will be found. Scilla has the special attraction of the old Castello dei Ruffo, a fortress that many travelers love to wander.
But any of the coastal towns provide an enchanting walk, a fine meal, and a scoop of gelato that will make your trip worthwhile and memorable. Gerace, known as the "Florence of the south" abounds with churches and also boasts a few main archeological sites like Locri—you may even be able to catch a summer performance in the ancient theatre. Squillace, Pizzo Calabro, San Mango d'Aquino, and Tropea are a few more fishing towns that make a charming day trip.
Calabrian cuisine has much to offer the enthusiastic eater. 25% of Italy's olive oil is produced there and given that the region has a terrain less favorable for agriculture, Calabrians became masters of food preservation, using their olive oil to keep meats, fish, and vegetables—a practice they still maintain today.
Soups and pastas are common fixtures on the menu, served up with lots of vegetables—especially mushrooms, eggplant, and the red onions native to the region. Look for their creative homemade pastas in unique shapes and sizes.
Calabria also produces the delicious butirro. This truly decadent cow's milk cheese must be sampled at least once—the center is filled with pure butter. Pork is the primary meat used in Calabrian cuisine, but the coastal proximity gives priority to the frutti di mare, namely swordfish, tuna, and dried cod. Focaccia and pizza are also some of the favorite regional bread products and there is no shortage of pastries and biscuits to start your day or finish off your meal. Citrus fruits and figs are the sweet treats of the region—you'll find them dipped in chocolate.
To get to Calabria take the train from any other major Italian city, through Naples and into the station at Reggio di Calabria. Lamezia is the main airport if you are arriving from other European cities or cities within Italy. Minniti Airport in Reggio di Calabria and Sant' Anna airport in Crotone are smaller airports but may be used if flying from other Italian cities or nearby international departure points.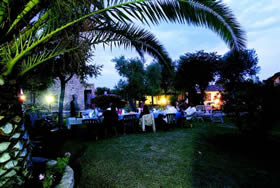 Calabria, Amendolara Marina - A warm welcome, genuine local cuisine, typical products. A blend that appeals to more and more people.
Credit: De Agostini Picture Library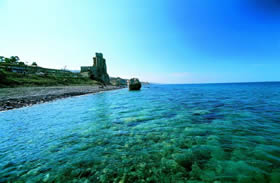 Calabria, Roseto Capo Spulico - The 13th century Swabian castle, an evocative backdrop for the lucky bathers of today.
Credit: De Agostini Picture Library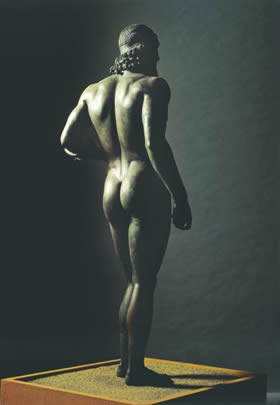 The Riace Bronzes, hidden for millennia at the bottom of the sea.
Credit: De Agostini Picture Library