0 Friuli-Venezia Giula Diaspora around the world
Our in-person family gatherings
Ireland's President Higgins family message
Our TEDx talk about family gatherings
Focus: Trieste
Jacki Christopher for Italy101.com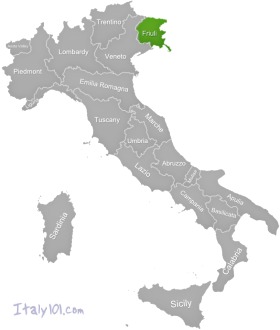 Located in Italy's northeast corner, the region of Friuli-Venezia Giulia has been called the "land of contrasts." The land itself is divided into alpine mountains, hills, plains, and coasts, providing ample variety of activities and recreation to the traveler. Bordering the countries of Slovenia and Austria, the Italian region of Veneto, and the Adriatic Sea, Friuli-Venezia Giulia is a region that bears the unmistakable influence of its neighbors, while maintaining its own unique identity.
If you are traveling in Venice or Austria, Friuli-Venezia Giulia is an easy trip—and worth it. The place to focus your time is Trieste. Located on the coast of the Adriatic, Trieste is often referred to as a little gem in the Mediterranean. If you love discovering the undiscovered sweet spots, make a trip to Trieste and plan to stay a couple of days. If you are looking for a place full of sights to fill up your travel itinerary, Trieste is not the place. But if you delight to soak in the culture of a special and magical place, then head to Trieste with no agenda. There is nothing to accomplish here besides simply being in the moment and savoring the setting. If you're a writer, you'll find inspiration here, or at least that's what Joyce, Rilke, and Svevo thought—all of them found Trieste to be quite a muse.
Strolling around Trieste, you can explore the Roman theatre and the mosaics in the Cathedral of San Giusto. Walk up to the Faro della Vittoria—a lighthouse on Gretta Hill that commemorates those who died in WWI. In the evening, Piazza Unita is the place to linger—you never know what might be happening there, from musical events to festivals to the opportunity for a slow romantic stroll
If you are visiting during warm weather, a day of sunbathing at the Baia Sistiana beach is certainly in order. There's also a yearly lineup of folk events and festivals to amuse the visitor such as the Carnival of Muggia, the Festival Dell Operetta, and the Trieste Film Festival, which highlights Central and Eastern European films.
When dining in Friuli-Venezia Giulia, you'll encounter food very different from the "typical" Italian fare. Given its geographical proximity to Eastern Europe, the cuisine is predictably flavored by the countries that surround it. From these foreign neighbors Trieste gets classic regional favorites like gulas (beef stew), rambasici (cabbage rolls filled with meat), and gnocchi made with pumpkin.
Game meats make hearty stews, which are accented with some of the most interesting pastas you will see in all of Italy like flics, sivilots, and uniquely filled cjalçons. Along the southern coast you can expect to find a wide variety of seafood-based risottos and chowders, even frog. Polenta is also an important Friulian staple.
Seek out the small family-owned restaurants. Since the area is quainter and less touristy than the typical Italian travel spots, you'll have fewer plastic photo menus to wade through before you find the real food. San Daniele ham and Montasio cheese are the prized regional farm products—be sure to order a plate as an appetizer.
The Slovenian and Austrian culinary influences even transfer into the realm of the sweets in which you'll find fruit strudels and pastries, fritters, and pinza, a sweet pizza. The prized presnitz is a roll with nuts and candied fruits.
Though the region is lesser known among the tourist crowd, it is a major player on the international wine scene. The Chardonnay, Pinot Grigio, Sauvignon, and Pinot Bianco are some of Italy's most revered whites. These fine whites pair well even with the heavier cuisine characteristic of the region, though the reds are also of very high quality. Finish your meal with a taste of slivovitz—a Slovenian plum brandy.
To begin your experience of Friuli-Venezia Giulia, fly into Ronchi dei Legionari Friuli Venezia Giulia Airport (international and regional) or Venice's Marco Polo airport. If you will be coming by train, you can connect at the Venezia-Mestre station and catch the train going in the direction of Udine-Treviso. Transfer at Udine for the train that will take you to Treiste.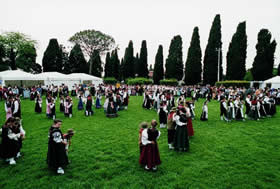 Agora Aquileia - folk dance.
Credit: APT Friuli Venezia Giulia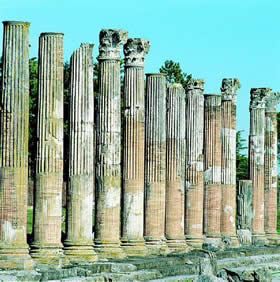 Agorà Aquileia - roman forum.
Credit: APT Friuli Venezia Giulia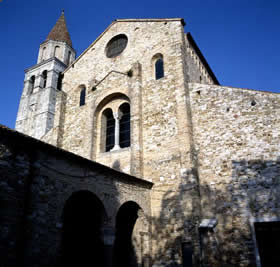 Aquileia - Basilica.
Credit: APT Friuli Venezia Giulia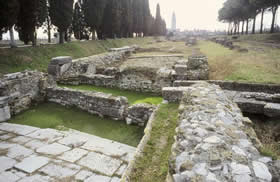 Aquileia, roman ruins.
Credit: APT Friuli Venezia Giulia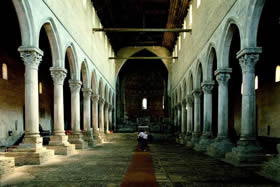 Friuli Venezia Giulia, Aquileia.
Credit: De Agostini Picture Library