0 Apulia (Puglia) Diaspora around the world
Our in-person family gatherings
Ireland's President Higgins family message
Our TEDx talk about family gatherings
Focus: Alberello, Lecce, Polignano a Mare
Jacki Christopher for Italy101.com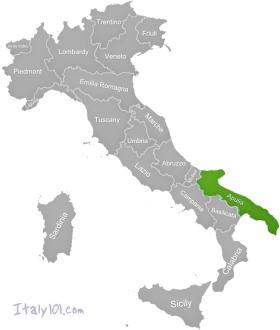 Welcome to the 'heel of the boot', Apulia, the Southwestern-most corner of Italy. The portion of Apulia that extends into the water, also known as the Salento Peninsula, is surrounded by the Adriatic Sea, the Ionian Sea, the Strait of Òtranto, and the Gulf of Taranto. Apulia's land portion is bordered by the neighboring Italian regions of Molise, Basilicata, and Campania.
No other region of Italy is quite so ancient. Within its plains and low hills Apulia claims more archeological sites and ruins than any other part of the country.
For the ancient history enthusiast, the possibilities are endless.
The Trulli of Alberobello, a medieval marvel, make you feel as if you have just stepped into a storybook.
A trullo is a dome or beehive-shaped house, and the small villages of Apulia are filled with these interesting and charming peasant-built structures.
Declared a UNESCO World Heritage Site, this is a must for any traveler in this part of the country.
Pick up a map and spend a day exploring the houses, churches, and museums on foot. For the fullest experience of this unique area spend a night in a trullo!
Apulia also affords the opportunity to do a little cave exploration. The Grotte di Castellana, discovered within the last 70 years, continues the feeling that you are walking through a fantasy novel. While two grotto tours are offered (one and two-hour excursions), the longer tour allows you to explore the spectacular White Cave and is preferred.
In Polignano a Mare rent a bike and pedal through this laid-back town and along the Adriatic Sea, taking in the phenomenal views and the classic yellow limestone structures. If you want to venture further, you can explore the other towns in the area.
Bike rental shops such as those owned by Southern Visions, can help you map out an itinerary and even assist with luggage transfers.
For a first hand look into the cuisine and culture of southern Italy, sign up at one of Apulia's many cooking schools like Stile Mediterraneo or The Awaiting Table in Lecce, which are favorites among foodie travelers. Whether you opt for a one-night class or a weeklong culinary adventure, you will come away with a new perception of Italian food, wine, history, and culture. Travelers who have taken advantage of this insider experience label it the best part of their trip.
If you don't get a chance to learn about Apulia's remarkable cuisine through a culinary school, then rely upon your restaurant and market visits to help you get a taste of this unique world of food. Most prominently, Apulia is one of Italy's greatest olive oil producers.
This region turns out more than 200 liters per year, or about half of the country's total olive oil output.
If you are planning to purchase a few liters to bring home, this is the place to do it.
When dining in Apulia, you'll notice the primacy of seafood, like mussels and oysters (given its coastal proximity), and traditional durum wheat pastas like orecchiette. Lamb and kid also form the base of many of Apulia's regional dishes. Try the tortiera casserole, which features famous cheeses of the region like pecorino and Canestrato Pugliese.
Apulia is also known for its breads - from focaccia to pizza to biscuits and pastries, Apulia has a bread creation for every course of your meal. This region is also the country's largest grape producer - be sure to take advantage of the several fine regional wines.
To start your excursion in Apulia, take the bus from Naples (3-4 hours) or fly into Bari.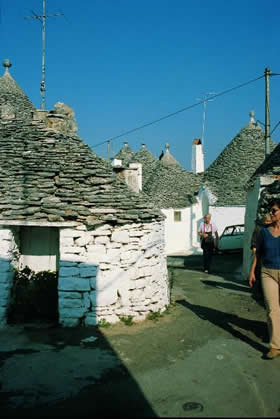 Alberobello.
Credit: APT Puglia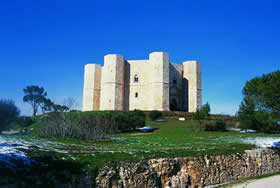 Andria, Castel del Monte.
Credit: APT Puglia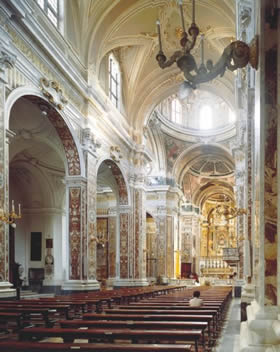 Apulia, Monopoli - the baroque sumptuousness of the cathedral.
Credit: De Agostini Picture Library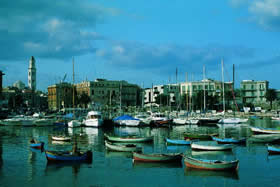 Bari marina.
Credit: APT Puglia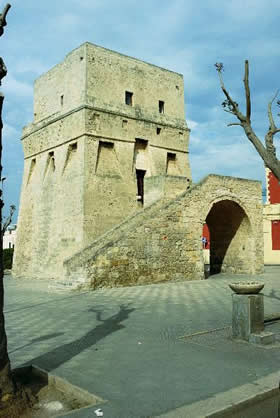 Bari, Torre a Mare.
Credit: APT Puglia