0 Tuscany (Toscana) Diaspora around the world
Our in-person family gatherings
Ireland's President Higgins family message
Our TEDx talk about family gatherings
Focus: Florence
Jacki Christopher for Italy101.com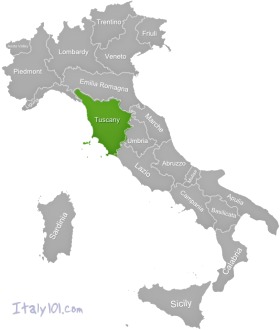 Located in Central Italy, Tuscany is known and beloved for its history, charm, romance, and traditional Italian aura. Witness the number of books and movies that have been set in this iconic and idyllic region.
An entire trip to Italy could be spent in Tuscany alone—and certainly many travelers have done just that, spreading their time between Florence and the surrounding towns of Siena, Lucca, Pisa, and Fiesole. Tuscany boasts of six UNESCO-designated World Heritage Sites—all worth seeing. But if your time is limited, focus your time in Toscana's capital, and main the hub of art and action: Florence.
To begin your morning in Florence, have your cappuccino and then head off to the Mercato Centrale. This market runs from about 9am to 1pm everyday, and is located just east of the Church of San Lorenzo.
For Italian goods from leather to pasta to Balsamic vinegar, as well as a host of kitschy souvenirs, look no further. Florence is world-famous for textiles, silks, and leather products—don't leave town without a handbag, belt, or at the very least, a journal covered in a fine, colored leather. Haggle with the shop owners a bit to get a good price—they expect it.
Step inside the enclosed food market where you'll find every possible shape of pasta, and also have the opportunity to sample a variety of aged balsamic vinegars and olive oils. These make great souvenirs to bring home and are a unique (and delicious) reminder of your excursions in Italy. Ask the shop attendants to package your purchases for travel. Grab a quick panino or slice of pizza for lunch and hit the cobblestones.
While the Uffizi Gallery is world renowned, and lands on every tourist's list of things to see in Italy, if you're not up for the hefty admission fee, and the galleries upon galleries of Italian Renaissance Art, check out the Palazzo Strozzi instead. This gallery hosts revolving exhibitions that seek to express the heart and pulse of contemporary Florence. Their exhibits are well-planned, thought-provoking, and friendly to families and individuals alike. This museum helps visitors understand Italy's more recent history, and is definitely worth a visit.
If you do intend to visit the Uffizi, or the Accademia to catch sight of Michelangelo's famous David statue, avoid wasting time in endless tourist lines by buying your tickets online, in advance. Tickitaly.com allows you to reserve and buy tickets to the major museums and attractions throughout Italy, saving you hours in lines and guaranteeing an entrance time. The further in advance that you can book you tickets the better.
The Ponte Vecchio is as beautiful in person as it is in every Italian film you've seen. Stoll over to the bridge in the late afternoon when the sun will be starting to set and the lighting for photos is tamer. Pop your head into the silver and gold jewelry shops lining the famous old bridge and gaze out over the Arno River.
To eat like a traditional Tuscan, try a few antipasti like a plate of olives and Pecorino di Pienza, a full-flavored regional cheese, with a few slices of salami made of wild boar meat, cinghiale in Italian. This meat also makes a hearty sauce over thick pappardelle pasta. Pair your pasta with a fine Chianti, Tuscany's signature wine and finish your meal off with one of Florence's many sweet treats, like an almond biscotti or scoop of gelato. If you have a big appetite, bistecca alla fiorentina is Tuscany's prized meat dish.
Zuccotto, a chocolate, nut-filled sponge cake drenched in various liqueurs is a rich ending to a rich feast.
To get to Florence, fly directly into Amerigo Vespucci Airport or arrive by train at the Santa Maria Novella train station.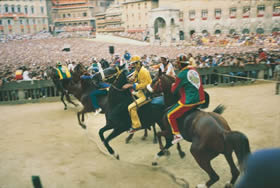 Siena - Every year the palio renews a contest between the city's districts.
Credit: De Agostini Picture Library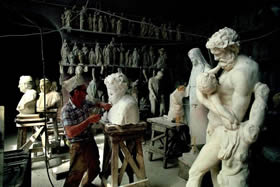 Tuscany, Carrara - The world's greatest sculptors entrust their creations to the skilful hands of the stonemasons.
Credit: De Agostini Picture Library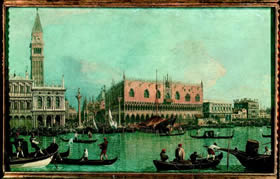 Tuscany, Florence - The masterpieces on display in the Uffizi also include the great views of Venice by Canaletto.
Credit: De Agostini Picture Library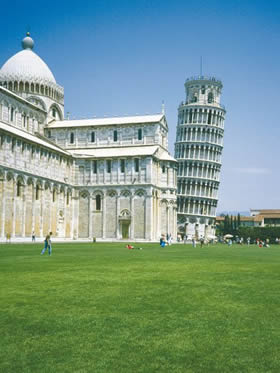 Tuscany, Pisa - Piazza dei Miracoli and the miracle of the Leaning Tower that lingers in the memory.
Credit: De Agostini Picture Library