0 Marche Diaspora around the world
Our in-person family gatherings
Ireland's President Higgins family message
Our TEDx talk about family gatherings
Focus: Urbino, Macerata, Ancona
Jacki Christopher for Italy101.com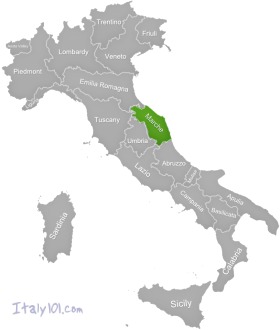 Spanning a large stretch of central Italy, the region of Le Marche is an under-discovered haven for classic Italian culture minus the touristy veneer. With a landscape varying from mountains to rolling hills to rugged coastline and a complex of caves and caverns, this region offers simple variety—perfect for the traveler looking to find the traditional Italy of yesteryear. Le Marche is surrounded by Abruzzo, Umbria, Lazio, Tuscany, and Emilia Romagna. The western side of the region is Adriatic coastline.
Le Marche is a land of simple pleasures. Composed of several smaller provinces and villages, it is best explored by car—giving you the freedom to enjoy the countryside and spend as much or as little time in each town as suits your interest and time frame.
For the best collection of Renaissance art in Italy, visit Urbino. This town, a Renaissance gem in itself, was also the birthplace of Raphael. The Palazzo Ducale takes you back in time to experience a taste of life during the time of the Renaissance. Marche's impressive National Gallery of Art is extensive—too much for one visit. Choose part of it to explore and save the rest for a future trip. Take a long walk through the historical center—this area has now been declared a UNESCO World Heritage Site.
Macerata's open-air Opera Festival, which takes place each year in July, is worth planning your trip around. As the event is a major draw for the area make sure to make your reservations well in advance. If you aren't able to plan your trip to this medieval walled-city during the festival, there is still plenty to see. This university town is also the home of the largest museum of nativity scenes (Museo Tipologico del Presepio)—definitely worth taking a look.
For a day by the sea head to Ancona. This seaport, formerly a Greek settlement, provides a day of strolling through marvelous architecture. If you are able to schedule it, try to be there for the Fair of St. Ciriaco, the patron saint of Ancona. This festival is celebrated during the first ten days of May and is certainly one of the highlights of the year in Marche. Jazz lovers also flock to Ancona for its thriving music scene.
The Frasassi Caves, also located in Ancona, are a favorite among visitors to the region and not to be overlooked. The cave complex offers the opportunity to explore and marvel during the one-hour tour. As guided tours are only in Italian, make sure to pick up the English audio guide to learn more about the fascinating history and geology of the caves.
Dining in Marche is part of the delight of your visit there. The region is blessed with an abundance of white truffles, which become vincisgrassi, a signature lasagna native to the province of Macerata. Apennine-grown lentils form the basis of a variety of soups and stews. Potacchio, a common regional preparation for both meats and fish, includes tomato, rosemary, white wine, and onion.
The star products of the region are the sweet, young pecorinos and a wide range of dried and cured meats and salumi, including porchetta. Sip the region's classic white Verdicchio with your fish or the red Rosso Conero with heavier cuisine.
Desserts of Le Marche are essentially a sweet pastry spin on the filled pasta. Ravioli provides the inspiration for calcioni and piconi, which are filled with various combinations of cheese, fruit, and liqueurs. Fruit and nut cakes like frustenga are also widely available for a sweet treat.
After you've finished your meal and taken the last sip of your espresso, end the night like a local by swirling a little Mistra, an anise flavored liqueur, in the bottom of your espresso cup and drinking the remains.
Unless you have a rail pass, it's cheapest and easiest to get to Le Marche by air. From other regions in Italy you can fly into Ancona Falconara or Rimini airport. Rome's airport is also an option—only about 3 hours away by car. Once in Marche, explore by rental car (which provides the most freedom to go at your own pace) or by coach bus.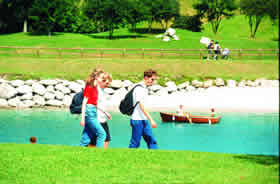 Trekking by the lake.
Credit: APT Dolomiti di Brenta - Altopiano della Paganella