0 Molise Diaspora around the world
Our in-person family gatherings
Ireland's President Higgins family message
Our TEDx talk about family gatherings
Focus: Sepino, Campobasso, Agnone
Jacki Christopher for Italy101.com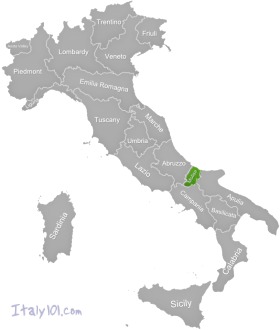 While Molise, the second smallest region in Italy, was formerly connected to Abruzzo as one region, the two split in 1963. Since 1970, Molise has been recognized as its own region. Located in south-central Italy, Molise is surrounded by the regions of Apulia, Campania, Abruzzo, and Lazio. It also has its own stretch of coastline on the Adriatic Sea, and to the sun-and-surf-loving traveler, that means beaches.
If you delight to discover the undiscovered, Molise is a rural haven for you, and the perfect place to spend a few days of unhurried, self-directed travel. You'll find very little direction or recommendation from tour books or online reviews. Molise welcomes you to take it in and evaluate for yourself.
For a pastoral experience in an area replete with archaeological sites, abbeys, castles, caves, craftsmen's workshops, and quiet meadows, Molise is the perfect hideaway. Each of the small towns can be explored and enjoyed in a day.
Campobasso is the capital of the region and the starting point for exploration. From here you can catch the buses that will take you to some of the surrounding villages. With an unhurried attitude and a willingness to enjoy your trip as it comes, you will be able to make the most of an area where bus schedules are not always fixed and where the pace is much slower that what you're used to. Embrace it!
Saepinum, located in the village of Sepino is an ancient Roman fortified settlement and a little-known gem not to be missed when traveling in Molise. Quiet and un-crowded, you can wander through the Roman ruins including gladiator chambers and amphitheater, admiring the architecture and engineering prowess of these ancient builders.
This little-mentioned region of Italy also has some interesting artisanal endeavors that are worth checking out. The village of Agnone is known for its coppersmiths and foundry, where bells have long been produced for the churches and cathedrals of Italy—even the Vatican. Visit the foundry that still operates and take a look inside the copper shops throughout the town for a taste of this ancient Italian tradition. The bagpipes used by Italian shepherds are produced in the village of Scapoli, using the same technique as their ancestors. And the village of Venafro is worth visiting as it is the region's major olive oil producer and also the home of the National Museum.
Outdoor activities abound in this area known for its mountains and vast biodiversity. Skiing (downhill and cross-country), trekking, paragliding, horseback riding, and cave exploration can easily fill your time there. Walk the ancient tracks along which shepherds used to take their sheep. Many of the paths are still intact and provide an interesting stroll. Pack a picnic of sausage and cheese and a bottle of local wine and head out along the network of timeworn paths and trails, taking in the countryside at your own pace.
From April to October Molise is host to a variety of quirky and fun festivals taking place throughout the area once or twice a month. To experience ancient customs and delicacies, plan your trip around one of these special events such as the Feast of Corpus Christi in late spring, or the Pentro Wine Festival in October.
For traditional, rustic Italian fare, pull up to the table at one of the small eateries dotting Campobasso or Isernia. There you will find hearty dishes incorporating mutton, lamb, kid, and pork. Caciocavallo, pecorino, and scamorza are the regional cheeses to sample and savor. The daring eater will finish off the meal with the regional dessert made of blood sausage, chocolate, and nuts.
Trains from Rome, Naples, Sulmona, and Pescara can carry you to Molise. Once there, you can either rely on the semi-reliable bus transport, or explore the area by rental car.