Focus: Modena, Bologna, Parma
Jacki Christopher

for

Italy101.com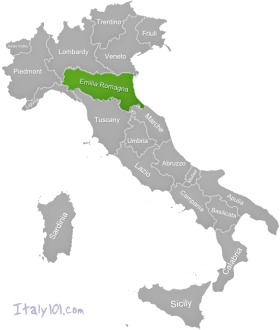 Located to the north of the Italy, the sprawling region of Emilia-Romagna horizontally spans the country nearly coast to coast. To set the region in its geographical context, it lies south of Veneto, Lombardy, and Piedmont. Liguria is seated to the west, and the Tuscany and Marche regions comprise the southern border. Located in the basin of the Po River, Emilia Romagna also boasts an impressive stretch of coastline along the Adriatic Sea.
Emilia Romagna is comprised of nine provinces: Forli-Cesena, Parma, Modena, Rimini, Bologna, Ferrara, Ravenna, Piacenza, and Reggio Emilia. Every one of these provinces has an outstanding lineup of sights and flavors to offer the traveler. Your biggest challenge in this large, culturally rich region is choosing where and how to spend your time.
Emilia Romagna could be called Italy's 'breadbasket', or its 'heartland'. The economy is heavily dependent upon successful agriculture, cultivation of specialty food products, and industry such as the production of Ferraris and Lamborghinis. It is among Europe's wealthiest regions.
Emilia Romagna's abundance of fertile land is good news if you appreciate the culinary arts and consider yourself a 'foodie.' If enjoying the fruits of the land and kitchen is on your travel menu, then this region is your one-stop Italian taste adventure.
Since many people come here for the food, cooking schools and culinary tours rank high among tourists as a favorite activity. Its also a unique way to understand the culture and history of Italy. There are more ways to learn the history of a nation than in a museum, and an Italian food class or gastro-tour can be a lot tastier! Bluone cooking and wine tours, located in Bologna, mix cooking and tasting with regional, hands-on exploration for a full sensory experience.
If you can't think of why the name Modena sounds familiar to you—open up your kitchen cupboards—it's written all over your balsamic vinegar bottles. If you enjoy a good mix of outdoor excursion, good food, and fun festivals, Modena should consume a few days on your travel itinerary. The Villa San Donnino will be the highlight of your visit to this province. Set in an impressive historic mansion, you will immerse yourself in the history of the area as you learn the secret behind the production of balsamic vinegar—Modena's 'black gold.' Make a reservation to spend the morning there and finish off with a balsamic vinegar-laden lunch. Reservations can be made online at the Villa San Donnino website. Tours last about 2 hours.
Spend your afternoon in Modena touring the Ferrari museum or the Duomo di Modena—though they couldn't be more different in style, both exhibit the beauty, character, and culture of this unique region.
Emilia Romagna specializes in their own unique brand of festivals and feasts, with medieval and Renaissance-style events being among the most popular. Each province has its special days for jousting, costume, and dance. Try to plan your trip to experience one of the festivals and make sure to book your hotel in advance.
In Parma, relaxation and pampering is the order of the day. This region, known for its abundant thermal spas is the perfect destination for the weary traveler. The spas of Salsomaggiore are a favorite with travelers for the quality and quantity of their services and offerings. After you have spent a day trekking on some of Parma's fascinating historical walks, such as the medieval Via Francigena, you'll be ready for it.
As the gastronomical capital of Italy, there is no shortage of variety in cuisine. Pasta is king here, but few broad characteristics can be offered to describe such a diverse culinary scene—variations abound from town to town, even home to home. Try as many different pastas and dishes as the length of your trip allows. Egg noodles, filled pastas, lasagna, and tagliatelle con ragu are good starters as you immerse yourself in the region.
When dining in Bologna, try the fritto misto, and never fail to begin a meal without a sampling of the local meats and cheeses, which include Prosciutto di Parma, Parmigiano Reggiano, and Grana Padano.
Main dishes are commonly formed around veal, poultry, and rabbit, with horse and donkey meat also making an occasional appearance. You will find various flatbreads, unique in size, thickness, and toppings—they make a good snack or a quick lunch. Balsamic vinegar should be liberally applied to all foods.
Finish your meal with an order of zuppa inglese or a sweet tart or pastry made of Emilia Romagna's regional fruit selection such as cherry, peach, pear, and chestnut. Sweet breads and cakes are always in abundance. And don't forget the nocino, a regional digestive made of green walnuts, to settle your stomach after such an abundant feast. The best wines of the region include Lambrusco, Sangiovese, and Trebbiano, to name just a few.
To get to the region, fly into one of the international airports located in Rimini, Bologna, or Parma. There is also the Linate airport outside Milan and one in Ancona as well. The infrastructure of the region is highly developed. You may travel between provinces by rail. Within each province, local and regional buses can transport you within the city center or to outlying villages and towns.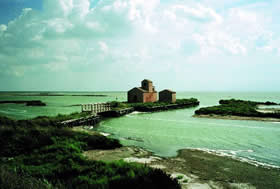 comacchio valleys.
Credit: Archivio fotografico della provincia di Ferrara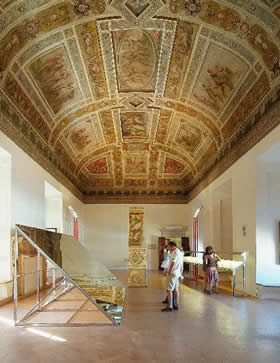 Estense Castle, The Salone dei Giochi (The Hall of Games).
Credit: Archivio fotografico della provincia di Ferrara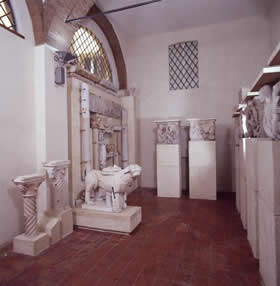 Lapidario Museum - the second room.
Credit: Museo Civico d'Arte - Agostino Pugnaghi 1999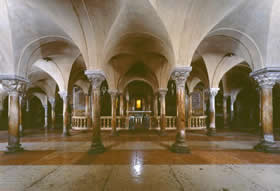 Modena Cathedral, Crypt.
Credit: Museo Civico d'Arte - Ghigo Roli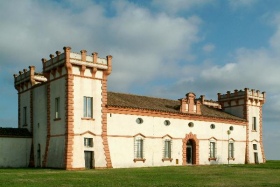 Portomaggiore, Verginese Castle.
Credit: Archivio fotografico della provincia di Ferrara