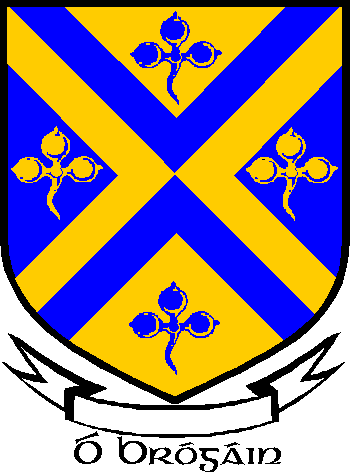 Get this crest printed on...
BROGAN Family History
The sept of O' Brogain belongs by origin to the Ui Fiachrach, an ancient population group of Mayo, Sligo and Galway, and possessed estates in the Barony of Carra and also at Breaghwy in Co. Mayo where, with Co. Donegal, the name is chiefly found in modern times. Ballybrogan near Athlone, Co. Roscommon, (from "baile", a town or settlement), indicated their establishment in this area also. Records state that Benedict O' Brocain was Bishop of Achonry, Dioceses of Co. Mayo from 1286 to 1312. However, evidence shows that the name was not confined to Connaught. In Munster a Mahony O' Brogan was, in 1300, among the tenants of Cahirconlish Manor, Co...