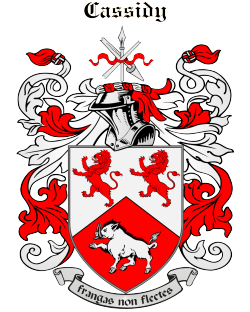 Get this crest printed on...
CASSIDY Family History
This famous Irish surname is an anglicized spelling of the original Gaelic O'Caiside - itself a compound with the elements "O" translating as "male descendant" and the personal name Caiside (derived from "cas" (curly hair), a nickname. The O'Cassidys were specifically from County Fermanagh in the province of Ulster and they provided physicians to the Kings of Ulster, the Clan Maguires particularly in the medieval period between the years 1300 and 1600. In fact at this time and through to the 19th century the O'Cassidy's were renowned for their education, providing a high proportion of the members of the priesthood in the region...