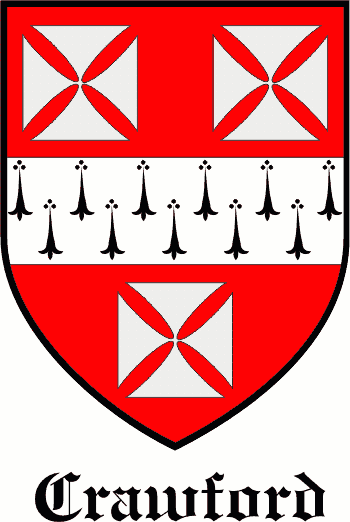 Get this crest printed on...
CRAWFORD Family History
This famous Scottish surname, found as Crawford, Crawfurd and Crauford, is locational in origin, from the old Barony of Crawford in the Upper ward of Lanarkshire, and is one of the earliest recorded Scottish surnames (see below). The placename is of Anglo-Saxon origin, meaning "crow's ford", derived from the Olde English pre 7th Century nickname "crawa", from "crawa", crow, with "ford", ford; there are places in the English counties of Dorsetshire and Lancashire which have the same name and meaning. Sir Reginald de Crauford was sheriff of Ayr during the region of William the Lion, King of Scotland 1165 - 1214, and one Roger de Crawford witnessed Eustace de Balliol's charter to Holyrood in 1262...