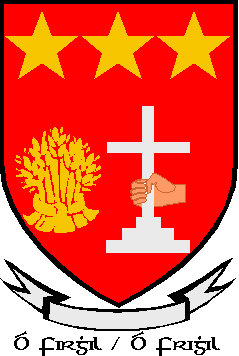 Get this crest printed on...
FRIEL Family History
This early Irish surname is an anglicized spelling of the ancient Gaelic O'Firghil, a compound of the elements "fear" meaning "a man" and "gal" - valour, "The gallant man"! It is said that the sept have one of the most distinguished origins in all Ireland, and descend directly from Eoghan, the brother of St. Columcille, the original St Columba, in the 6th century. The latter exiled himself from Ireland being unable to rationalise between the warring tribes, and founded a monastery on the desolate Isle of Iona. The sept was, and still is, located in County Donegal, where they were known as 'coarbs', and held a hereditary position of trust, where in effect they maintained the church lands on behalf of the Primate of Ireland...