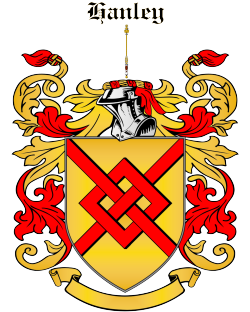 Get this crest printed on...
HANLEY Family History
This is a distinguished Irish surname. Deriving from the ancient Gaelic spelling of O'hAinle", it originates from the word "ainle", meaning beauty or grace. Traditionally, Irish family names are taken from the heads of tribes, revered elders, or some illustrious warrior, and are usually prefixed by O', meaning grandson or male descendant of, or Mac, denoting son of. They are often extremley 'robust', and unlike this surname, rarely physically complimentary. The O' Hanley's originated on the banks of the River Shannon in the county of Roscommon, where the place Doohyhanly is named after them. The sept was a branch of the royal house of O'Conor, of which Rory O'Conor was the last High King of Ireland (1166 - 1175)...