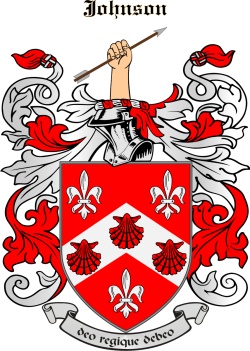 Get this crest printed on...
JOHNSON Family History
Mac Seáin, also formerly written Mac Seagháin, anglicised MacShane, also as Johnson, by translation, 'son of John'.
The MacShanes were a branch of the O'Neills, and may be expected to be found in their original Ulster homelands. However, Johnson is also a Scottish and English name, and many of those bearing the name would be of planter stock in Ulster, and elsewhere in Ireland.
In fact, Johnson was the tenth most numerous surname in England and Wales in the mid 19th century.
Etymologically, of course, the name is a patronymic from a first name of biblical origin, 'Johanan' or 'God is gracious'. This name was brought into Britain and Ireland by the Normans: Norman-French 'Jehan'. The Irish Seán is the Gaelicisation of the Norman name. 'Shane' is simply a phonetic rendering of Seán.
In the 1659 'Census' of Sir William Petty for Co Antrim, and barony of same name, Johnson is found in the list of 'Principal Irish & Scotch Names', with 8 families.
There are 12 families of McShane listed in the 'Census' as a 'Principal Irish Name' in Lower Fews Barony, Co Armagh. There are 6 McShane families listed as such in Loghinsholin Barony Co Derry. Likewise in Co Laois, we find 11 McShane families in Tynagh, and in Maryborough and Sliemargeagh baronies there are 4 families of McShane in each.
Unfortunately, returns for Co Tyrone are missing.
By the time of Griffith's 'Valuation' of household properties in Ireland in the mid 19th century, most Johnson families were found in counties Antrim 81 (+ Belfast 24) and Down 53. The rest are scattered across Ireland.
Two famous Johnsons:
Sir William Johnson, Baronet, (1715-1774) was born in Co Meath into an Anglo-Irish family. He went to North America, where he led Iroquois and British colonial militia in the French and Indian Wars.
Thomas Johnson (1872-1963) born in Liverpool of an Irish family, became a nationalist politician in Ireland. A leader of the Irish Labour Party, he led the official opposition in the pro-treaty Dáil of the Irish Free State in 1922.