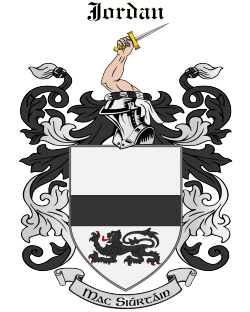 Get this crest printed on...
JORDAN Family History
Recorded in many spellings as shown below, this was originally a popular English and French personal name given especially to the children of the Knight Templars, known as The Crusaders. These people were both soldiers and pilgrims and the often returned with flasks of water taken from the River Jordan, and this was used for the baptism of their children. The word derives from the Hebrew 'yarden' meaning 'to descend' (to the Dead Sea). The personal Latinized form of the name, Jordanus, is first recorded in the registers of the abbey of Bury St. Edmunds, Suffolk, in 1121, whilst Jurdanus de Brakenberge appears in the Danelaw Rolls of Lincoln in 1191...