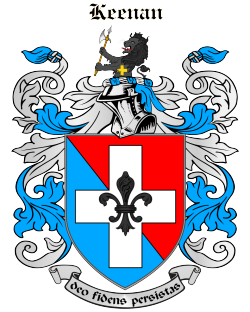 Get this crest printed on...
KEENAN Family History
Recorded as O'Keenan and more usually Keenan, this is an Irish surname. Found mainly in the Ulster and northern counties of Fermanagh and Monaghan, it originates from the ancient pre 10th century Gaelic name O' Cianain meaning "The descendant of the faithful one" or similar. It may not have been entirely coincidence that the clan was famous through out the Medieval Period for producing both high ranking members of the church, and early historians, in several cases the same thing. The first recorded scribe was Adam O' Caianain, who was also the canon of Lisgool in Fermanagh. He is mentioned in the annals known as the "Four Masters" as being the historian to the famous Maguires of County Fermanagh...