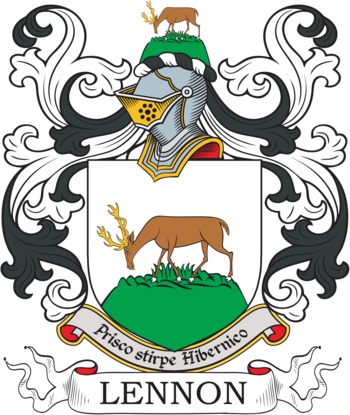 Get this crest printed on...
LENNON Family History
Recorded in several spelling forms including O'Lennon, O'Lennan, Lennon, Linnane and Lineen this interesting surname is Irish. It usually originated from the pre 10th century O'Leannain, a byname meaning "lover", but may also be from O'Lonain, a diminutive of "lon", meaning the blackbird. Traditionally, Irish family names are taken from the heads of tribes, and were originally prefixed by O' meaning the grandson or male descendant, or Mac, meaning son of. The O'Lennons of Fermanagh held the office of erenage, that is the hereditary holder of church property, and the maintainers of priests.