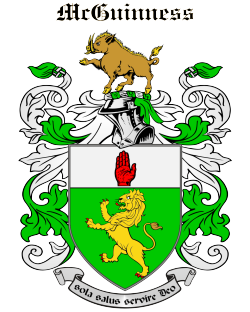 Get this crest printed on...
MCGUINNESS Family History
Recorded in many forms including MacGenis, McGinnis, MaGennis, MacGuiness, McGuiness, McGuinness, Guiness, Guinness, and others, this is a famous name. It is arguably of both Scottish, Irish, and Manx origins, being derived from the early spelling of 'MagAonghusa'. This is considered to be an early form of the personal name Angus from 'aon' meaning one and '-gus', enterprise. As such Aonghusa means literally 'Unique enterprise'. The first bearer of the name is believed to be Aonghus Turimleach, one of three Irish brothers, who invaded Scotland in the 3rd century a.d, and gave his name to the district and county of Angus...