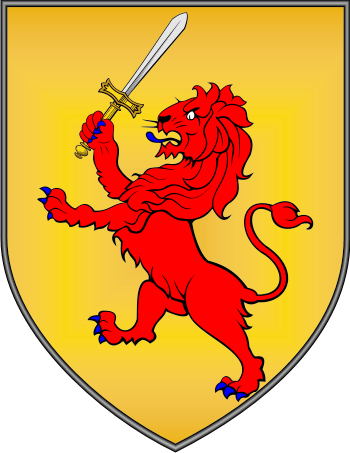 Get this crest printed on...
MCRORY Family History
Recorded in various spelling forms including MacRory, MacCroary, MacCrory, MacCrorie, MacRorie, and short forms commencing Mc, and in Ireland plus the spellings of McCreary, McCreery, McGreary and others, this is a surname of Scottish origins. It derives from the pre 10th century Gaelic name Mac Ruaidhri, meaning the son of the powerful ruler, although who the powerful ruler was is not clear. The surname was very popular in Scotland from the early medieval times( see below), and according to Petty's Census of Ireland in 1659, almost equally so there. Today however in Ireland the surname is quite rare, and in the south of the country is generally recorded as Rodgers and Rogers! The nameholders in Ireland were originally gallowglasses, or mercenary soldiers, who were paid to enter the country in the 14th century to support the then government...