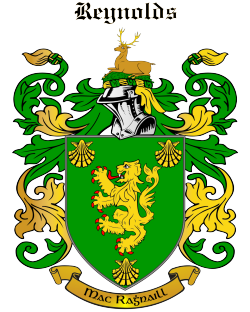 Get this crest printed on...
REYNOLDS Family History
This most interesting and ancient surname, with variant spellings ranging from Reynalds, Rennnolds, and Renals, to Rennels, Runnalls, and Reynoldson, is considered English, but with Norse-Norman antecedents. It is a patronymic form (i.e. "son of") of Reynold, which itself derives from a Germanic personal name composed of the elements "ragin", meaning "counsel", and "wald", meaning "rule". This type of name was very popular at the period, most being made up of elements indicating god like powers, war or power. This is one of the more restrained forms. Introduced into England by 8th century Viking "settlers" in the form of "Rognvaldr", the Normans brought their version as version "Reinald" in 1066...