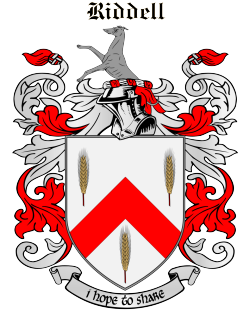 Get this crest printed on...
RIDDELL Family History
Recorded in many forms including Riddel, Riddell, Riddal, (English & Scottish), Ridel and Ridell (French) Riedel, Riedle, and Rydel (German & Scandanavian), his interesting surname has two distinct possible origins, each with its own history and derivation. Firstly ot may be of German and Anglo-Saxon origin, and a locational name from any of the various places called Rydal (Westmorland); Ryedale, in the North Riding of Yorkshire; Riddell, south west of Lilliesleaf in Roxburghshire; and the ancient seat of Ryedale in Kirkcudbrightshire. Locational names were originally given to local landowners, and the lord of the manor, and especially as a means of identification to those who left their birthplace to settle elsewhere...