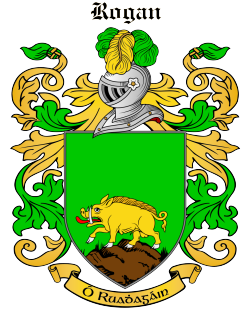 Get this crest printed on...
ROGAN Family History
This rather unusual surname is of Irish origin, and is an Anglicised form of the Gaelic name "O'Ruaghagain", the prefix "O" meaning "male descendant of" or "grandson of", followed by the personal name "Ruadhagain", coming from the Gaelic element "ruadh", red. Traditionally, Irish family names are taken from the heads of tribes, revered elders, or from some illustrious warrior, and are usually prefixed by "O", as above, or "Mac", denoting "son of". The clan is of the Oriel sept which originated in Counties Armagh and Monaghan and parts of South Down, Louth and Fermanagh. Despite the similarity of spelling it has no association with the (O)Regan Clan...