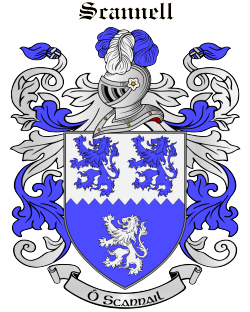 Get this crest printed on...
SCANNELL Family History
This name, with variant spellings Scanlon, O' Scandall, O' Scannill, (O') Scanlan, and (O') Scanlon, is an anglicized form of the Olde Gaelic O Scannlain. The Gaelic prefix 'O' indicates 'male descendant of', the personal byname Scannlain from 'Scannal' meaning 'contention'. Two distinct septs whose descendants are now known as Scanlon existed in Ireland. One, having the rare prefix 'mac' i.e. Mac Scannlain, held territory in County Louth and gave their name to Ballymascanlon near Dundalk. The name is seldom if ever found in its place of origin now. The second main sept belonged to West Munster, (Counties Cork, Kerry, Limerick, and Clare) and the 1659 'census' shows a high incidence of births in this area...