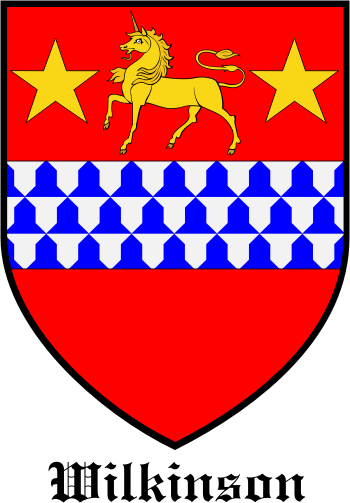 Get this crest printed on...
WILKINSON Family History
This interesting surname, with variant spellings Wilkinson, Wilkenson, Wilkennson, Wilkens, and Wilkins, is a patronymic of the medieval given name "Wilkin", a short form of the personal name "Will" (itself coming from the diminutive of the Norman personal name William), with the addition of the hypocoristic suffix "kin". The surname dates back to the early 14th Century (see below). Further recordings include one Thomas Wilkynson (1332), in the Subsidy Rolls of Cumberland, and Adam Wylkynson (1379, in the Poll Tax Records of Yorkshire. Recordings from London Church Registers include the marriage of Anne Wilkinson and Cutbert Worpcop on January 21st 1543, at St...