General overview
Every airport has a car rental service where you can choose between companies.
The small car category is only suitable for two people, especially with baggage.
Long journeys in a Fiat panda or similar are ok, but not the most comfortable.
Upgrade to the next category for as little as €4 extra per-day. (If you're renting for a week, it's worth the comfort.)
A station wagon will cost approx €20 (per-day) more than a city car. Ok for 4 adults with bags.
Driving in Italy can be hazardous, especially in Naples and Rome, where you will need nerves of steel to get around. If you want to stay in the city then taxis and public transport will generally cost less, and you can't get lost with a taxi! Trains are also cheap and frequent in Italy, so moving from one city to the next is not a problem.
Of course, if you plan to move around a lot with lots of baggage, then renting a car (station wagon) is a good idea.
Rental companies
After analyzing prices for 1 day and 1 week in the small-car and station-wagon categories we recommend Italybycar.it (Thrifty) - they have a user-friendly website, it's clear in pricing - you can compare prices for different size cars on one page. It also has the cheapest price per-week and per-day prices and includes unlimited kilometres!
Locautorent is also competitive in price, however the website is in Italian only.
Other companies: Maggiore and Sixt are very expensive.
Auto Europe is confusing and expensive per day, but levels out over a week.
When booking a car with many dealers you need to ask if the prices include kilometres, airport tax, road tax and insurance. For baby seats, some companies charge per day, others charge a minimum fee.
Targarent appears cheap, but has a lot of extra (hidden) expenses like extra for airport taxes!! and the English version doesn't work. Avis have a strange online booking policy, sometimes it costs more, sometimes less. Hertz, at least online, doesn't even offer the smallest car for one day (or two or three), but minimum 1 week (1 week price is competitive) and their station-wagon was not available for 1 week.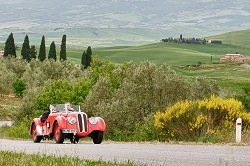 Car rentals