Proud to be an Italian-American
Author: Piero Caramella
Italian immigrants maintained significant familial and social connections and often planned on returning to Italy, which many were able to do. Nonetheless, major Italian neighborhoods were established in the Northeast, often coming to be called "Little Italy" for their distinctive language, food and music. The strong ties among Italian family are still common today though over many generations, Italian-Americans have been absorbed into this culture just like the other immigrant ethnicities.
People living in the Northeast, whether Italian or not, are probably very familiar with the Italian culture. New York is home to the largest segment of Italian-Americans—over three million. New Jersey and Rhode Island come in second and third, making these mid-Atlantic states distinctive in their heritage.
Italian Americans have broadly influenced entertainment culture through many famous icons tracing their lineage back to Italy and also by Italian-American stereotypes. Famous Italian Americans include Robert DeNiro, Martin Scorsese and Madonna. DeNiro and Scorsese also take part in portraying the Italian stereotype of organized crime in America in films such as The Godfather which remains a classic to this day. Other examples of Italian-American culture in popular entertainment include TV shows The Sopranos and Growing up Gotti.
Though these figures and films are wildly popular, probably the most recognizable and significant contribution to American culture has been through the culinary arts. Pasta and pizza are staples in Anytown, USA but real Italian strongholds take it even further. Famous for their multi-course feasts that last for hours and where the food never runs out, Italian celebrations in New York and Brooklyn occur yearly to highlight the panorama of authentic flavors. But even when Italian mammas do not have an official reason to celebrate, they are renowned for their culinary skills which incorporate traditional ingredients, such as mozzarella and the tomato. From social organizations to entertainment to food, the extent of Italian influence is wide. Generation to generation, the thread of Italian culture has been strongly and creatively woven into the fabric of American society.
About the Author:
Article Source: ArticlesBase.com - Proud to be an Italian-American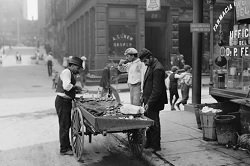 Italian emigrant