What do you need to be able to study in Italy?
Degree at University? First, you need to have the same qualifications as you do to go to University in your own country, which generally means having completed High School (age 18 / 19 approx) for a detailed view of minimum requirements for applicants go to study-in-italy.it
Second, you need to know some of the lingo, unless you are doing a course in English. Each University provides the possibility to do a course with them, which you need to pass to start studying there.
So, don't worry if you don't know Italian, but you'll need to work hard at it once you get here.
You want to study Italian?
For beginners there are no prerequisites, obviously, while for higher levels, a competency test is provided, which you need to pass. The University of Siena offers 3-month courses in Italian, have a look and see the dates of these courses at cluss.unistrasi.it recommended by Italy101.
Cooking? There are no entry requirements here, but, the better your knowledge of Italian, the more you will benefit from the course. Cookery courses abound. You can do short term, weekend courses, or longer ones, check out Slow Food Italy at slowfood.it or, we recommend italiancookerycourse.com because their courses cater for a more international audience, they speak English! Buon appetito!
What city?
There are lots of exciting options but, for clarity's sake, we have listed the best universities below, starting from what we consider to be the best, from experience, stories and statistics!
Number 1 is unibo.it Bologna is probably the most student-friendly town in Italy. Its university is the oldest in Europe and the student population is enormous, making for a great atmosphere as well as quality academia! Bologna is also central in Italy and you can easily day-trip to Florence, Pisa, Venice, Milan or the beach!
At a close second is uniroma1.it Rome is alive with hustle and bustle, a great place for those who love city-life and has 10 months of good weather a year. There is a very international feel to the town, with people from all over the world living there, too.
Milan unimi.it is the place to go for well-organized, serious courses and is the best place to go if you are interested in fashion and the Marangoni school is the cream of the crop istitutomarangoni.com
Torino is another big town and has lots of events for students. It also boasts St John's International university sjiu.it – an American College in Turin, all courses are in English, except for the Italian language courses. There are also plenty of courses for non-Italians at the main University unito.it
For any course that lasts longer than six months, make sure you have all the correct documentation, the Italian bureaucracy is infamously difficult and anything out of place will hold up procedures.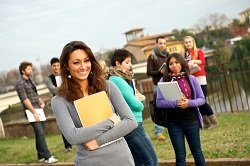 Studying in Italy