Living in Italy
Italy - the country of contrast and contradiction. The difference between the more Germanic peoples of Trentino-Alto-Adige in the Northern Alps and the more Latin Sicilians is huge and the Regions in between are fairly multi-colored as well.
Milan is where people work hardest and walk fastest, Naples is probably its opposite. Each has its benefits - you can make a lot of money in Milan but maybe get a little stressed, while in Naples you're more likely to enjoy the color and pace of life than make much money.
Looking for a place to stay?
As a student, the best is to look on notice boards at the university and internet cafès. A good website is idealista.it for renting. Agencies are quite expensive and usually take 2 months' deposit on the house they are renting, plus two months' payment for the service - so, if you rent an apartment for €600, you will have to pay €3,000 to get in the door. Avoid agencies if you can! The most expensive cities are Bologna, Milan and Rome. Many people commute into these towns for work to save on rent.
Banking
You can set up a bank account with valid identification. Like many things in Italy, it's hard to tell which bank is the best (or worst) but SanPaolo and Unicredit have the most atm's so that might be a good reason to choose them.
Getting around
If you have a car remember that motorways in Italy cost money! If you haven't got a car, you can rent one and rail travel is a valid alternative, the prices are acceptable although sometimes the punctuality is not. Whatever about Italy's faults, it is worth seeing and you should take advantage of your stay, however long, to see and taste as much of it as possible. Every region has its own peculiarities, especially culinary but also linguistic, cultural and above all artistic.
Networking
Italy is about people-knowing-people more than many countries, but recently the Facebook phenomenon has taken root in a big way among Italians, so it is a good idea to use it if you want to start meeting people.
Fashion
Italian shoes and clothing weather the storm better than most others and this could be an interesting sector to look for work in.
Cars
The top and bottom-end cars seem to be the least hit by the crisis. In Italy, that means Ferrari and FIAT. Although, FIAT cars have improved greatly on quality over the last years, they have remained in the lower price range of the market and a lot of traditionally mid-range car buyers are considering these cars because of their price, while they remain aesthetically pleasing, yet quality cars with low fuel consumption. While Ferrari is a pretty tight-knit team and difficult to get into, top-end engineers and designers might consider moving into this area. Of course, the group also includes Lancia, Alfa Romeo and is in other sectors, such as trucks and more.
Working
If you have a job before coming to Italy, your employer will help you out, otherwise, Non-EU citizens need a permesso di soggiorno to work in Italy. Go to your local police station and they will tell you everything you need for a work permit. Your initial permit of stay for 'holiday reasons' lasts 90 days, so you should start applying for your work permit as soon as you arrive. In Italy the top jobs pay more than in other countries, that is, compared to other European countries like Germany or France, there is a bigger difference between what a manager earns and what a new-entry employee earns. So, Italy is a good place to go for work, if you are in management - the higher the better!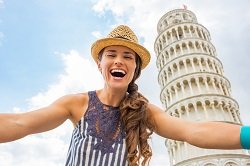 Living in Italy