Ten things you didn't know about Italy
The thermometer is an Italian invention
Italy's contributions to science include the barometer, electric battery, nitroglycerin, and wireless telegraphy.
With almost 40 million visitors, Italy is the fourth most visited country in the world.
The majority of Italian-American immigrants came from Naples and southern Italy.
The average Italian consumes 26 gallons of wine a year.
Italy has more hotel rooms than any other nation in Europe
Since the end of WWII, Italy has seen almost 60 governments come and go
Italians used to be known for having large families, however Italy is now known for having Europe's lowest birthrate
Italy's richest man is Sivlio Berlusconi, politician and Media guru
There have been more than one new government per year in Italy since its constitution as a republic
Top ten sights
Top ten cities in size
Rome: 2.5 million
Milan: 1.2 million
Naples: 1 million
Turin: 856,000
Palermo: 651,000
Genoa: 602,000
Bologna: 369,000
Florence: 351,000
Bari: 312,000
Catania: 306,000
Top ten companies in Italy
10 Exhibitions to visit in Italy for 2009
Author: Catherine Gliddon
A large number of exhibitions are held all over Italy each year, covering a wide number of sectors and with these exhibitions relating to various sectors. Below we take a look at the 10 most popular exhibitions in the 2009 calendar.
1. The 2009 Bologna Motor Show - This year's 34th edition Bologna Motor show promises to deliver bigger and better things for the automotive industry. This exhibition is held in Bologna, at the Bologna Fiere Exhibition Centre from the 5th to the 13th of December.
2. BIO-Europe Spring 2009 - Held in Milano at the Milano Convention Centre from March 16th - 19th, BIO-Europe Spring 2009 is set to bring together life science companies and produce more partnerships across the bio-tech value chain.
3. SAT Expo Europe 2009 - Space exhibitors gather around as SAT Expo Europe 2009 and this event brings together people from the digital and satellite telecommunications industry. This exhibition runs from 19th - 21st March 2009.
4. Real Estate Expo - This is one of Italy's main real estate shows and attracts people from all over Italy and from around Europe. The Real Estate Expo is held at Stazione Leopolda from the 26th to 29th of March in Florence, Italy
5. Turin International Book Fair - Also called Fiera internazionale del libro, this fair is Italy's largest trade fair for books and is claimed to be one of the largest book fairs in the world and is held in Torino from the 14th - 18th May at the Lingotto Fiere.
6. Salone Internazionale del Mobile - The international Furniture Fair of Milan is the largest of its kind in Italy each year and is a very popular event for people involved in any way, with the furniture industry. Leading designers showcase new products in this exhibition from the 22-27th April at the Milan Fairgrounds, Rho (Milan).
7. SMAU MILAN 2009 - SAMU Milan is an international Exhibition of Information & Communications Technology which runs from October 21st - 24th at Fiera Milano city, is complemented by conferences and workshops to offer valuable educational and training opportunities in this sector.
8. Promotion Expo Milano - Also held in Fiera Milano City, is held in March of every year and this expo showcases a broad range of solutions in the marketing, advertising and event management world.
9. Control Italy - The centre of attraction for the manufacturing industry. Held at Fiere di Parma Fairgrounds every March, is an event which helps you with all your outsourcing needs and displays the latest finished products from this circle.
10. Vinitaly - For all trade operators in the wine industry, this exhibition is one to come to where you can see a love for all things wine. This full-scale trade exhibition runs from the 2nd -6th April 2009 at the Veronafiere, in Verona Italy.
About the Author:
Catherine writes about Display Kits and Exhibition Services.
Article Source: ArticlesBase.com - 10 Exhibitions to visit in Italy for 2009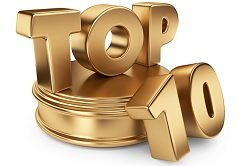 Top10 list